I had written in my book: 'Gifts from the Ashes' about my 'Lost Blanket'. I had lost it approximately 6-9 months after my son had died. It's name was Denial. I liked my blanket; it had temporarily softened the blow. It had comforted me with a warmth by shielding me from the coldness of the harsh reality that my son was not going to walk back in the front door one day.
When I began to feel my blanket slipping out of my hands, I wanted so desperately to hold onto it. As a child who just lost their balloon, I felt utter dismay.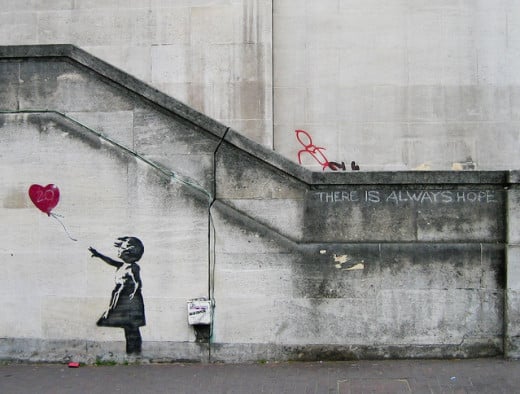 It was frightening.
A degree of letting go was beginning to set in. Personally, I have never been very fond of 'balloon releases' because of this.
I often meet up with many Mommas who at the beginning of this journey, still have their Faith in tact. This, of course, is a good thing. However, in most cases, it is inevitable that at some point they will hit that brick wall. Reality of their child really being gone overcomes them; suddenly, they feel overcome and overwhelmed with Grief.
Fight it as we may, we will have to allow Grief to takes its course…for it has a life all its own. At such a time, we begin to question God and we begin to question everything. All that we once believed to be True comes to a screeching halt. Our security blanket has been violently ripped away. Nothing makes sense anymore. The most unnatural thing has occurred: a parent has outlived their child. I have never met a parent, a good parent, who would not have traded their life for their child's in a blink of an eye with no questions asked. A parent's instinctive reaction to their child running out into the street is to run after them and save them without a thought given to self that they may get hit by a car. At such a moment, a parent doesn't stop and look both ways beforehand. They just immediately, instinctively,  place the safety and welfare of their child first. It is a 'built-in' response. Yet, now we are called to live a life that defies gravity.
In Banksy's beautiful drawing above, of the girl with her balloon, it is unclear as to whether or not she lost her balloon, or if she let it go. What is often not noticed are the words he wrote; our focus usually is upon the little girl. However, the artist wrote: 'There is always Hope'. It is no wonder that this is considered a masterpiece.
We never 'get over' losing a child. A child is neither a balloon that got swept away by the winds, nor a blanket that got misplaced. A child is Life. Our child is a part of us. Our child, in many ways, was our life. We cannot replace such a loss. We cannot fix/repair such a broken heart. Now that he/she is gone, we have to find a 'hole in hopelessness' as my son stated in one of his poems.
I know many balk at my repeated usage of Scripture. I have often been verbally attacked by folks that either don't believe in God, or hate Him in their Grief Anger. I have often been discouraged and wounded in the process and have 'quit', at times. But, I can't stop. Why? It's simple…God is my only Hope. If I did not believe His Promises that I would see my child again, I would have given up completely…and I do mean 'completely'…long ago. Truly, we who do believe: 'do not grieve like the rest of mankind, who have no hope.' (1 Thes. 4:13). I do not share Scripture to 'preach' at folks, though some do 'feel' that way. I do it because I know Jesus is my only Hope. When I hear Mommas who are completely and utterly hopeless in their grief, destitute without any sign of relief on the horizon, I offer them the only lifebuoy that has remained steady and steadfast throughout these 18 yrs.
God's Word does not say that we will not suffer. He does not say we will not grieve. Quite the contrary, actually. He tells us we will have trials and tribulation: 33 "I have said these things to you, that in me you may have peace. In the world you will have tribulation. But take heart; I have overcome the world." Yet, He assures us that in Him, we can have Hope.
Peter says something that I truly find remarkable in 1 Pet. 4:13 But rejoice insofar as you share Christ's sufferings, that you may also rejoice and be glad when his glory is revealed. 14 If you are insulted for the name of Christ, you are blessed, because the Spirit of glory and of God rests upon you.
'The Spirit of Glory and of God rests upon you'. That is my 'hole in hopelessness'.
And I Shed a Tear for You
by Jude's Son
I've cried the cry that the brokenhearted
Rings across the vast wilderness;
When looking upon the bright, full moon
Shining off the calm, still lake below
And asking why!
I've cried the cry that stems from the
Loneliness and the hurt that a small,
Innocent, young child feels embedded
In the dark corners of his soft heart!
But now, I cry a cry that sheds a new tear!
The tears that now make their path
Down my newly, older face, do not scar
But cleanse the wounds of my past.
They do no harm, but heal.
They are the tears that are shed only by a few
Fortunate to find hope through a hole
In hopelessness!
Tears shed by those who find the love
That was lost in their loneliness.
And now, as I cry my tears of joy,
I shed a tear for you!
12/10/76-3/17/99….I love you, Baby!
(((HUGS)))  Jude Gibbs, Author of 'Gifts from the Ashes' available at:
http://www.xulonpress.com/bookstore/bookdetail.php?PB_ISBN=9781498496728
https://www.amazon.com/Gifts-Ashes-Jude-Gibbs/dp/1498496725/ref=tmm_pap_swatch_0?_encoding=UTF8&qid=1487342742&sr=8-1
http://www.barnesandnoble.com/w/gifts-from-the-ashes-jude-gibbs/1125792801?ean=9781498496728
Please help spread the word…TY!!!  (((HUGS)))
Released 2/15/17