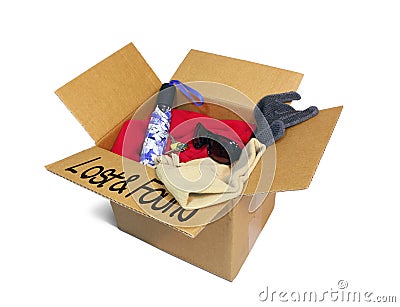 I am sitting in the middle of a box today.
Everything is tossed around me.
It's tidy in the sense that it is all contained within this box, but within this box is total chaos and turmoil.
I'm looking for something but so far, no matter how many things I toss aside, I haven't yet found it.
To make it even more frustrating, and causing even more anxiety, I don't know what it is I am searching for…I only know that something is lost and I'm trying to find it.
It's a box of rubble.
It's a lost and found box like the one that sat in the hallway outside of the Principal's office in Elementary School.
There's a mitten here and there, a scarf, a piece of paper that someone wrote for homework with no name on it. There's even a little stuffed bear.
Nothing I have found so far belongs to me, yet everything here looks familiar. I can't decide for sure if this or that is mine or another's.
I don't even know how I got into this box or what drew me here. I don't recall losing anything, yet I know I have. Perhaps, if I did lose something, I may find it here.
I need to dig thru it faster, the bell's about to ring. Possibly, I missed it…whatever 'it' is.
Check this corner. Nope. Check that one. Nope. Perchance, there's nothing here…just losses.
I may revisit this box again another day. Who knows? I may then find something I lost.
The bell has rung, I need to get to class. I have to leave this search for another day. I climb out of this box and close the lid…for today.
I look up and see a sign. The name of this box is Pandora.
(In Mythology, Pandora opens a jar containing death and many other evils which were released into the world. She hastened to close the container, but the entire contents had escaped except for one thing that lay at the bottom—-HOPE.)
(((HUGS)))  Jude Gibbs
Excerpt from: Gifts from the Ashes…available at:
http://www.xulonpress.com/bookstore/bookdetail.php?PB_ISBN=9781498496728
https://www.amazon.com/Gifts-Ashes-Jude-Gibbs/dp/1498496725/ref=tmm_pap_swatch_0?_encoding=UTF8&qid=1487342742&sr=8-1
http://www.barnesandnoble.com/w/gifts-from-the-ashes-jude-gibbs/1125792801?ean=9781498496728
http://www.deepershopping.com/item/jude-gibbs/gifts-from-the-ashes/7049689.html?utm_source=GoogleShopping&utm_medium=datafeed&utm_campaign=GoogleShopping&gclid=CJeoufav5dICFUokhgodV88NKA
Also, a Contributor on 'The Mighty': https://themighty.com/2017/03/the-pain-of-holidays-after-the-loss-of-loved-ones/
Please spread the word…TY!!!  (((HUGS)))